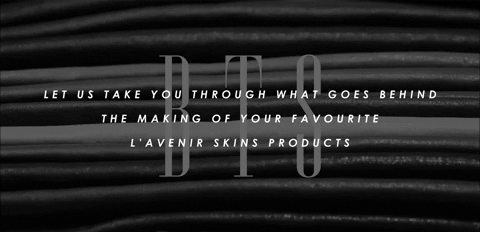 Welcome to l'avenir skins
L'avenir skins houses luxury leather apparels and accessories that blend seamlessly into different wardrobes of style. Coming from a lineage of leather manufacturers and a family bursting with 35+ years of experience, we aim to conceptualise a new range of luxury with premium leather with fashion forward designs and explorations.
We seek to reveal India's leather through the medium of creating value and showcasing them through compelling fashion and unique craftsmanship.
What we do?


L'avenir skins is a brand that represents the "Future" of leather in the fashion industry. It embodies the art of personalised leather apparels with a timeless spirit and yet relevant to today's fashion trends. Design innovation meets fine craftsmanship in our collections, translating leather into diverse forms. 
The deep passion for leather along with our love for handcrafting desirable and marvellous masterpieces motivate us to make edgy designs to make a fashion statement. We're on a roll to identify the value of leather in today's marketplace with an aim to please all customers who have a taste for leather like no other.
Surpassing seasonal and runway trends, our pieces are the ultimate lifestyle companion, accompanying you from day to night no matter where your journey leads. With a refined process and focus on quality, we respond to the pace of our times by thoughtfully producing timeless and one of a kind accessory that last a lifetime.

Who we are? 
The sibling founders of L'avenir skins. We have been in the leather industry for the past
few decades and were brought under the limelight by the guidance of our father who is an explorer in assembling business of leather garments and accessories for the past 35+ years.


Our Philosophy :


We believe it's not just about where you come from, it's where you're going. It's about stepping into the world and returning to the familiar.

Benchmarking of Quality is an important factor which we self-endorse. It reflects the social, cultural and technological changes on the products, L'avenir Skins keeps up with the changes around it to be able to survive and compete in the day-to-day market.
Inspired by a humanistic approach that transcends today's trends, the L'avenir Skins legacy is rooted in presence, simplicity and integrity. Taking pride in challenging industry norms, the focal point is always people and provenance.
We hold pride in our craftsmanship and designs that are premium, thoughtfully constructed, and crafted slowly with precision to stand the test of time. 
The artisans and the consumer are equally important, both become part of the L'avenir Skins family. High quality and ethically sourced materials in combination with traditional manual techniques ensures this symbiotic relationship continues to live on in each of our designs for years to come.


L'avenir's Forecast (Our Aim) 
L'avenir skins is a brand that represents the 'Future'. Our premium products stand unparalleled in today's leather market. We strive to be the best by providing our customers with products that are synonymous with latest trends and fashions. By virtue of being in this trade for long, the Company's forte is to deliver the quality products at the right time and the right price.  We assure you that all materials used for manufacturing our products are of superior quality, reflecting your style with fashion statements.
We aim to please all customers who have a taste for luxury leather like no other. We use leather responsibly from tanneries verified by the Leather Working Group (LWG) that promotes sustainable environmental practices within the leather industry
As we believe in service before self. up your quotient with genuine leather product from L'avenir Skins.

Production facilities at L'avenir Skins meets the standards laid down by leading international brands.
Factories are BSCI & SEDEX Approved
Labour rights are an integral part of Land Laws.
Factory layout and work areas are organised in a safe and healthy work environment.